Half-Marathon: 21,097 meters for those who want to test their strength on a smaller scale. A safe race with high standards that meets the tastes of even the most demanding runners.
BENEFITS
Limited edition, high-quality technical t-shirt

Unique, artistically designed race completion medal

Backpack with event logo

Electronic timing chip for personal tracking
Provision of isotonic beverages – juices at supply stations

Pace team for 1h30m, 1h45m, 2h00m, 2h15m, 2h30m

Full health coverage, free of charge

Electronic participation diploma, complete with name and performance time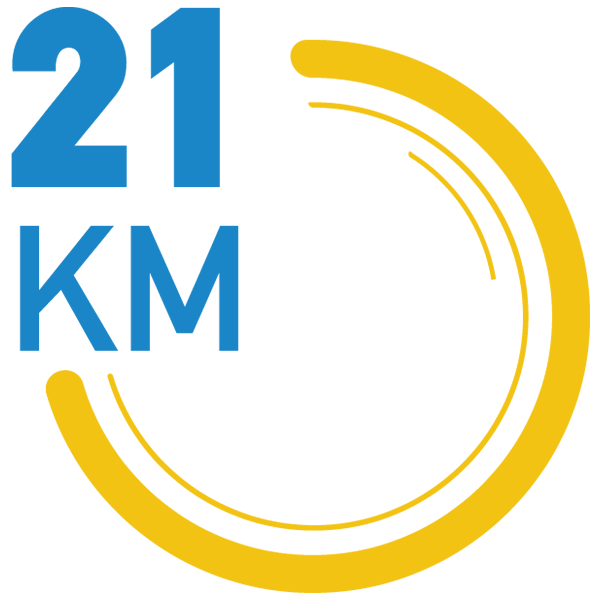 ROUTE DESCRIPTION
The Half Marathon race of the Radisson Blu Larnaka Internation Marathon features a flat and fast route, the perfect setting for runners to reach and break their PBs!
The start line of the Half Marathon race is located at Foinikoudes in front of the Town Hall of Larnaka. From the start line the runners will head east and at the end of Foinikoudes they will turn right and continue their way reaching the Nautical Club of Larnaka, where the first turning point of the race is located.
The runners will then head west towards the city centre of Larnaka, through Makariou Avenue and across Zinonos Kitieos, passing by the picturesque city center and the historic church of St. Lazarus.
After reaching St. Lazarus church, the runners will pass through the Turkish Cypriot neighbourhood and end up at Piale Pasa, one of the most scenic coastal avenues of Larnaka. The runners will turn right, then head west to Artemidos avenue and continue their journey across the famous Salt Lake of Larnaka until they reach the mosque of Hala Sultan Teke, where the second turning point of the race is located.
The runners will then head east and return to the coastal avenue of Piale Pasa, pass by the Medieval castle of the city and finish the race at Foinikoudes, right in front of the Larnaka Town Hall.
WATER STATIONS
The race route features 6 water stations which provide mineral water, electrolytes, soft drinks, fruits and medics.
At the finish line the runners will also receive mineral water, electrolytes, fruits and their finisher medal.
IMPORTANT NOTE
Runners are encouraged to be at the Starting Line 1 hour before the start time.